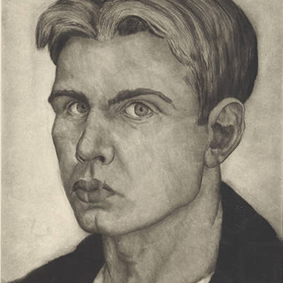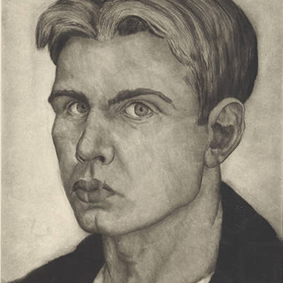 Lynd Ward
American, 1905-1985
Lynd Kendall Ward was an American artist and novelist, known for his series of wordless novels using wood engraving, and his illustrations for juvenile and adult books. His wordless novels have influenced the development of the graphic novel. Strongly associated with his wood engravings, he also worked in watercolor, oil, brush and ink, lithography and mezzotint. Ward was a son of Methodist minister and political organizer Harry F. Ward.
His most well known books are Gods' Man and his Caldecott-winning The Biggest Bear.
Lynd Kendall Ward was born on June 26, 1905, in Chicago, Illinois. His father, Harry F. Ward, was born in Chiswick, England, in 1873; the elder Ward was a Methodist who moved to the United States in 1891 after reading the progressive Social Aspects of Christianity (1889) by Richard T. Ely. He named his son after the rural town of Lyndhurst, located in the south coastal county of Hampshire, where he had lived for two years as a teenager prior to his emigration. Ward's mother, Harriet May "Daisy" Kendall Ward, was born in Kansas City, Missouri, in 1873. The couple met at Northwestern University in Chicago, Illinois, and were married in 1899. Their first child, Gordon Hugh Ward, was born in June 1903, and a third, Muriel Ward, was born February 18, 1907.
Soon after birth, Ward developed tuberculosis; his parents took him north of Sault Ste. Marie in Canada for several months to recover. He partly recovered, and continued to suffer from symptoms of the disease throughout his childhood, as well as from inner ear and mastoid infections. In the hope of improving his health, the family moved to Oak Park, Illinois, where his father became a pastor at the Euclid Avenue Methodist Episcopal Church.
Ward was early drawn to art, and decided to become an artist when his first-grade teacher told him that "Ward" spelled backward is "draw". Having skipped a grade, Ward graduated from grammar school a year early in 1918. The family moved to Englewood, New Jersey, and Ward entered Englewood High School, where he became art editor of the school newspaper and yearbook, and learned linoleum-block printing. In 1922, he graduated with honors in art, mathematics, and debate.
Ward studied fine arts at Columbia Teachers College in New York. He edited the Jester of Columbia, to which he contributed arts and crafts how-to articles. His roommate arranged a blind date for Ward and May Yonge McNeer (1902–1994) in 1923; May had been the first female undergraduate at the University of Georgia in her freshman year. The two married on June 11, 1926, shortly after their graduation, and left for Europe for their honeymoon.
After four months in eastern Europe, the couple settled in Leipzig in Germany for a year, where Ward studied as a special one-year student at the National Academy of Graphic Arts and Bookmaking [de]. He learned etching from Alois Kolb, lithography from Georg Alexander Mathéy [de], and wood engraving from Hans Alexander "Theodore" Mueller; Ward was particularly influenced by Mueller. Ward chanced across a copy of Flemish artist Frans Masereel's wordless novel The Sun (1919), a story told in sixty-three woodcuts without captions.
Ward returned to the United States in September 1927, with a number of book publishers in his portfolio[clarification needed]. In 1928, his first commissioned work illustrated Dorothy Rowe's The Begging Deer: Stories of Japanese Children with eight brush drawings. May helped with background research for the illustrations, and wrote another book of Japanese folk tales, Prince Bantam (1929), with illustrations by Ward. Other work at the time included illustrations for the children's book Little Blacknose by Hildegarde Swift, and an illustrated edition of Oscar Wilde's poem "Ballad of Reading Gaol".
In 1929, Ward was inspired to create a wordless novel of his own after he came across German artist Otto Nückel's Destiny (1926). The first American wordless novel, Gods' Man was published by Smith & Cape that October, the week before the Wall Street Crash of 1929; over the next four years, it sold more than 20,000 copies. He made five more such works: Madman's Drum (1930), Wild Pilgrimage (1932), Prelude to a Million Years (1933), Song Without Words (1936), and Vertigo (1937).
In addition to woodcuts, Ward also worked in watercolor, oil, brush and ink, lithography and mezzotint. Ward illustrated over a hundred children's books, several of which were collaborations with his wife, May. Starting in 1938, Ward became a frequent illustrator of the Heritage Limited Editions Club's series of classic works. He was well known for the political themes of his artwork, often addressing labor and class issues. In 1932 he founded Equinox Cooperative Press. He was a member of the Society of Illustrators, a member and President of the Society of American Graphic Artists (SAGA), and the National Academy of Design.
Ward lived with his wife in a home in Cresskill, New Jersey to which they added a studio for their work.
Ward retired to his home in Reston, Virginia, in 1979. He died on June 28, 1985, two days after his 80th birthday, predeceasing his wife.